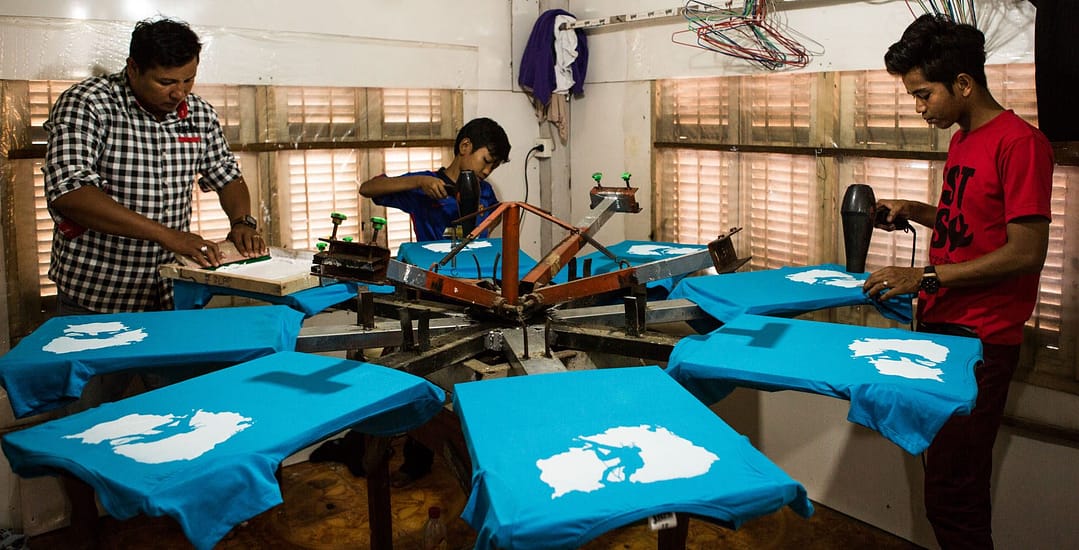 Does your group need custom printed t-shirts?
When you get your custom printed t-shirts from Justees you are supporting a fair wage and sustainable business in Cambodia. You are also supporting the work we are doing with youth in the slum areas.
Justees does custom screen printing on high thread count cotton tees in 57 colors and can ship your product anywhere in the world.  We can also do other printing like embroidery, sublimation printing and heat press transfers.
Our sewers can sew different style shirts, including round neck, v-neck, polo shirts and sports cloth polo's, tees and singlets. Email dave@justees.org for more info!
With a 15 shirt minimum order, our "basic print" price is USD$10 per shirt + postage.  This is for up to 2 colors and 2 logos.  Additional colors and logos are charged at USD$1 per color, per logo.
We will give you our best estimate of the shipping cost based on past orders.  Because shipping is based on weight; different fabrics and sizes change the weight of the shipment, so we will only know the exact cost on the day it leaves here and is calculated by the courier.
Step 2 – Fill out the Printing Request Form, and include good res images.
Step 3 –
Within 2 weeks we will sew, print and mail your t-shirts.
Step 4 –
On the day the package leaves here we will send you the invoice to pay via Paypal, our Aussie bank account or our Cambodian Bank.  Expect it on your doorstep in 3 days from that day.
We buy our tour shirts through Justees to start supporting Cambodians before arriving. Justees is easy to work with, happy to create what we want and are very well priced.
Visiting the Justees workshop is always a highlight for the students. You get to walk through the slums of Cambodia to see just how people live on the way. When we arrive, David does a fantastic talk about life in Cambodia, why he is there and the assistance Justees gives to the local youth. He is very open and is happy to answer any questions. We like buying shirts from a business that helps the Cambodian youth, as well as being fair trade. We also find it interesting to look at how screen printing is done in a third world country and how they made the shirts we wear. Justees shirts that you can purchase on your visit have excellent messages that hopefully get people thinking about the issues in the world today.
Thanks for having us Justees!!!!